Trade Deficit's Red Tide Keeps Rising
The full version of this report was released to ECRI clients on Nov. 21, 2018
President Donald Trump's trade war has yet to address a widening trade deficit. Instead, the trade deficit is becoming an even larger drag on GDP – to the tune of 1.9 percentage points in Q3 2018, the most negative contribution since Q1 2009 – while further increasing economic volatility.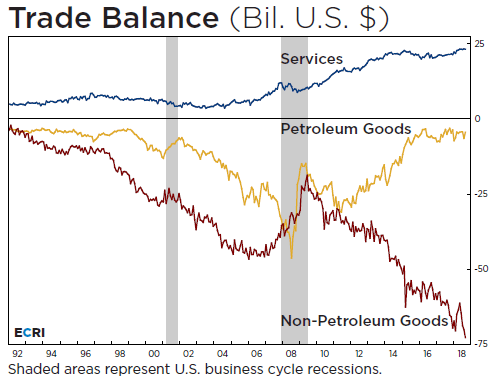 The main problem, which we highlighted last year, is the non-petroleum goods trade deficit (chart, red line). As we noted, Mr. Trump had already overseen "a rapidly expanding trade deficit in non-petroleum goods, much of it attributable to China."

However, because of the U.S. energy boom, the monthly U.S. trade deficit in petroleum goods has shriveled from over $46 billion in mid-2008 and $31 billion in mid-2011 to around $4 billion today. That's nearly as small as it was in the 1990s (gold line).

The monthly U.S. services trade surplus has also shown solid improvement, hovering above $23 billion of late for the first time on record (blue line). That represents more than a six-fold increase in the 14 years since the summer of 2004, implying an impressive 14¼% annual pace of growth over that period.

Yet, the non-petroleum goods trade deficit has overwhelmed the increase in the services trade surplus and the shrinkage of the petroleum goods trade deficit, becoming the main driver of the overall U.S. trade deficit. Indeed, since Mr. Trump took office the monthly trade deficit has ballooned by well over $12 billion – more than a 20% increase in 20 months.

This is the backdrop against which the U.S.-China trade conflict has broken out. Following Vice President Mike Pence's speech two months ago that he and Mr. Trump had reportedly gone over line by line, it is now what we called "a new 21st-century cold war against China," representing "a monumental policy shift from strategic engagement to strategic competition" (ICO Essentials, October 2018).

For these geopolitical reasons, a fundamental breakthrough engineered by Mr. Trump and Chinese President Xi Jinping at the recent G20 meeting in Argentina was always unlikely, but the temporary truce they reached, forestalling the planned increase of tariffs to 25%, offers a glimmer of hope. Should the impending negotiations fail, however, economic volatility is likely to remain elevated, making it all the more crucial to follow ECRI's indicators to know when the economy has entered a recessionary window of vulnerability.

Click here to review ECRI's recent track record.

For more information on ECRI professional services please contact us.