Least-Educated Have More Jobs than Ever
A robust job market has lifted the Employment/Population (E/P) ratio for the 25-and-over to 62.3% – the highest since February 2009 (not shown). But this strength is driven mainly by the tightening labor markets for the least-educated.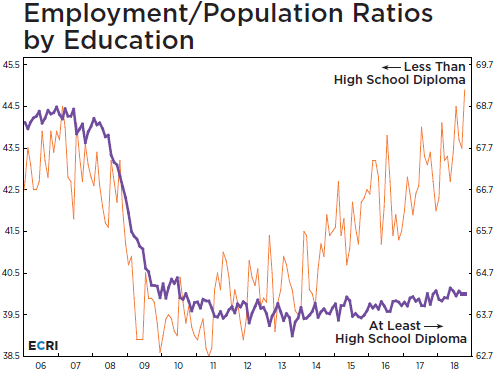 Specifically, the improvement has been spearheaded by the tenth of the population without high school diplomas, whose E/P ratio has spurted to 44.9%, the highest on record (orange line in chart).

But for the nine in ten Americans with at least a high school diploma – a larger proportion of whom are employed to begin with – the E/P ratio stayed at 64.2% in October, after having slipped below May's eight-year high (purple line).

This extends the disproportionate improvement in the fortunes of the least-educated workers seen over the last five years, during which the more-educated have made only slight headway, having reversed just one percentage point of the 5½-point recessionary plunge in their E/P ratio.

In other words, the jobs recovery has been buoyed mostly by the demand for less-skilled labor.

Click here to review ECRI's recent track record.

For more information on ECRI professional services please contact us.