Timing Is Everything: Liquidity Cut Amid Global Slowdown
The full version of this report was released to ECRI clients on Aug. 28, 2018 -
Central bank balance sheets have shrunk by over half-a-trillion dollars since March. This decrease in global liquidity – in the face of a global slowdown – raises the risk of policy mistakes much higher than is commonly assumed.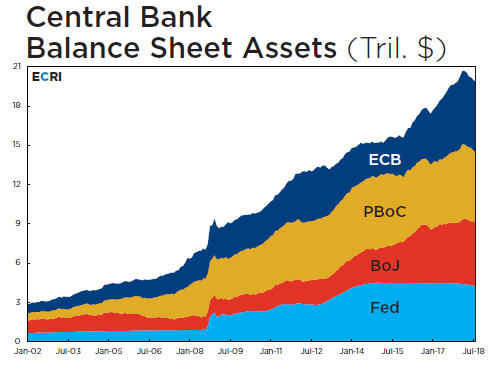 The unprecedented expansion of major central bank balance sheets in the wake of the Global Financial Crisis (GFC) supported a broad range of asset prices, as intended. Today, as those banks taper or unwind that stimulus (chart), it poses a danger not only to financial markets, but also global growth prospects. ECRI's cyclical perspective offers information about where we are in the economic cycle, on an upswing or downswing. If economic growth begins to slow before or as banks tighten, it magnifies the associated dangers.

That is precisely the case in many major economies today. Following ECRI's earlier prediction of easing global growth, the consensus is beginning to realize that disappointing data early in 2018 may have been more than just a soft patch. This reality makes the European Central Bank's plans to end its asset-purchase program by year-end, and raise rates in 2019, seem overly ambitious.

Meanwhile, The Bank of Japan (BoJ) effectively conceded that its radical approach to monetary policy had not worked in scuttling internal plans to raise rates twice this year (ICO Essentials, August 2018). This is a big deal, as the BoJ pioneered quantitative easing (QE) as a monetary policy tool in 2001 and more than five years ago launched a turbocharged round of QE as Abenomics was launched. Nevertheless, Japan still slipped into recession four times since 2008.

While central banks are understandably eager to unwind their balance sheets before the next recession hits, they seem too sanguine about their policy-tightening plans. Rather, a better time for central banks to tighten is when prospects for economic growth, as tracked by our array of leading indexes for aggregate and individual economies, have brightened.

Click here to review ECRI's recent track record.

For more information on ECRI professional services please contact us.