Time to Worry About Germany
The full version of this report was released to ECRI clients on Nov. 14, 2018 -
The contraction in German GDP is nothing to be complacent about. Given our cyclical approach, we do not look just at how GDP changes from one quarter to another next, which can be distorted by exogenous factors, but its trend over many quarters and the broader cyclical outlook based on our leading indexes.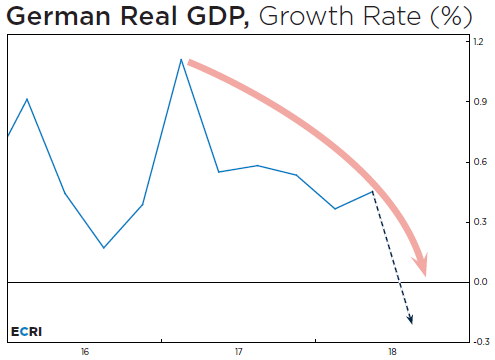 Indeed, the consensus mostly dismissed the Q3 2018 drop in German GDP because it was caused in part by a sharp decline in car production, which had been derailed by a new motor vehicle emissions certification system. However, it is evident from the chart that, while the third quarter decline was quite sharp (dotted line), it is part of a cyclical deceleration that began in early 2017.

In contrast, ECRI recognizes the weaker GDP reading as part of a cyclical slowdown, in line with our earlier predictions that the Eurozone and the global economy would slow. This context makes it all the more noteworthy that a worsening global economy translated into weaker export growth, weighing on Q3 German GDP.

Still, the German Ministry for Economic Affairs and Energy has only now cut its annual GDP growth projections for both 2018 and 2019 to 1.8%, featuring sizeable downward revisions compared to earlier projections of 2.3% and 2.1% for 2018 and 2019, respectively. In other words, the consensus is adjusting to our view that a cyclical slowdown in Germany has been underway for some time.

Click here to review ECRI's recent track record.

For more information on ECRI professional services please contact us.