Taking a Break, or Rolling Over?
ECRI's U.S. Future Inflation Gauge (USFIG) leads U.S. inflation cycle turning points. The value of the USFIG lies in its ability to measure underlying inflationary pressures and thereby predict turning points in the U.S. inflation cycle.

Back in July 2018, ECRI warned clients in the USCO Essentials report that "Inflation pressures continue to simmer but, looking ahead, there is a hint of cooling." ECRI doubled down on that warning in the early August 2018 USCO Focus that noted, "Contrary to consensus expectations, there is rising risk of a downturn in inflation."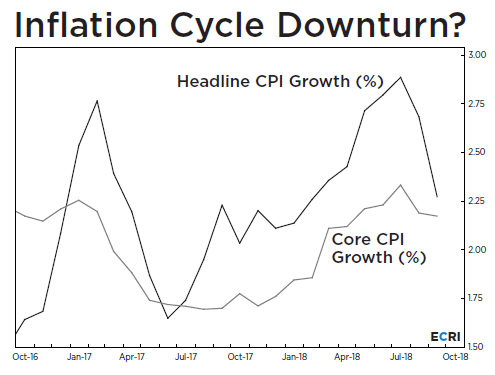 This is the same index that foreshadowed the U.S. inflation upturn when market inflation expectations were near their lowest readings since the financial crisis lows in mid-2016. Based on the decisive upturn in the USFIG, we already knew that a cyclical upturn in inflation was at hand.

In 2017, the USFIG reversed direction and correctly anticipated a cyclical downswing in inflation, when the dip in inflation was being blamed on "idiosyncratic" factors. In late 2017, Fed Chair Janet Yellen called that inflation downturn the year's biggest surprise.

The USFIG turned up again right at that juncture, in late 2017, correctly predicting the most recent inflation upturn.

For a fuller history on ECRI's inflation calls and more, please review our Track Record.