Simple Math Shows G7 Trend GDP to Slow
An excerpt from our "The Risk of Mistaking Cyclical for Structural" talk given at the Levy Economics Institute's Minsky Conference, April 17, 2018. –
With regard to the simple math of demographics and productivity growth, what ails the U.S. ails pretty much everybody.

This chart, using similar data as our U.S.-specific analysis, shows the simple math of adding up productivity growth and labor force growth to estimate trend GDP growth for the G7 economies.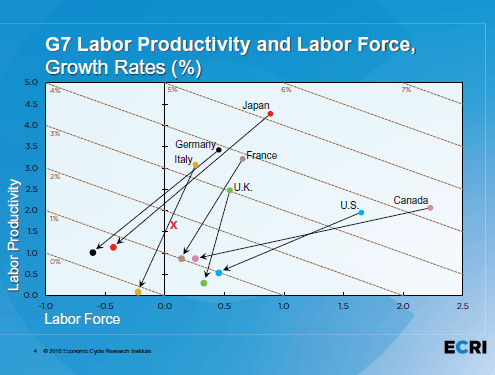 The starting coordinate for each country is the 1957-2007 average for productivity growth and labor force growth. The ending coordinates near the arrow heads mark the average productivity growth for the past six years, and potential labor force growth for the next six years, so you see U.S. potential growth is around 1%.

A key aspect of the chart has to do with the slanting brown lines. The horizontal and vertical coordinates add up to 1% for every point on the slanting 1% line -- similarly for the 0% line, and so on.

Clearly, every G7 country is headed in the wrong direction, with potential GDP growth converging toward the 0-1% range. And the red "X" shows Japan's "lost decades" from 1992, when its post-bubble recession began, to the eve of the financial crisis.

The major economies are heading for even worse predicaments.

Click here to download the full presentation, including notes.

Click here to review ECRI's track record, including member report excerpts.

For more information on ECRI professional services please contact us.