Oil's Role in U.S. Economic Resilience
The full version of this report was released to ECRI clients on Oct. 3, 2018 -
The latest Fed minutes cite "business fixed investment [having] grown strongly" as a reason for raising rates. Yet much of that strength is from oil prospecting, meaning that the latest upturn in private investment has more to do with higher oil prices than tax cuts. It also suggests that, as oil price inflation eases, a critical driver of investment growth will be cycling back down. Furthermore, ECRI believes that the run-up in oil prospecting is cyclical, rather than structural, and therefore subject to reversal sooner than most expect.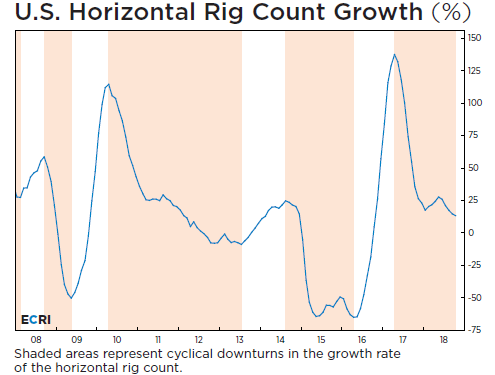 This year, the U.S. is believed to have become the world's largest oil producer, following a resurgence in horizontal drilling (chart) – or "fracking" – in 2016. With mining playing an increasing role in the U.S. economy, a real danger is that a future collapse in oil prices could seriously crimp economic growth, just as previous collapses have caused recessionary conditions and financial crises in other major oil-producing countries (ICO Essentials, November 2017).

Since early 2017, mining has contributed as much to U.S. economic growth as the entire retail trade industry. In turn, growth in private fixed investment, where most oil drilling expenditures show up, has been adding, on average, over one percent to real GDP growth over the same time span. As the decline in rig count growth at the right side of the chart indicates, however, the latest energy boom seems to be petering out, which undercuts a key driver of the latest upswing in business investment (USCO Focus, October 2018).

Nevertheless, monetary policymakers are likely to overlook the energy boom's outsized contribution to recent U.S. economic growth, as it undermines their argument that risks to the economic outlook are "roughly balanced." Considering the integral part the cyclical upturn in energy-related investment has played in recent economic strength, prospects for growth in this highly cyclical sector – as measured by ECRI's sector-specific leading indicators – will be crucial to determining whether the economy can withstand the Fed's planned rate hikes.

Click here to review ECRI's recent track record.

For more information on ECRI professional services please contact us.