Lowflation Demons Bedevil BoJ Plans
The full version of this report was released to ECRI clients on Mar. 7, 2018 -
Through our understanding of the cyclical drivers of the economy, we are able to distinguish between shorter-term cyclical movements and longer-term structural changes. While a string of positive Japanese consumer price index (CPI) growth figures has convinced some that structural lowflation has been vanquished, and even emboldened the Bank of Japan (BoJ) to explore policy normalization in the next year or so, the evidence remains unconvincing.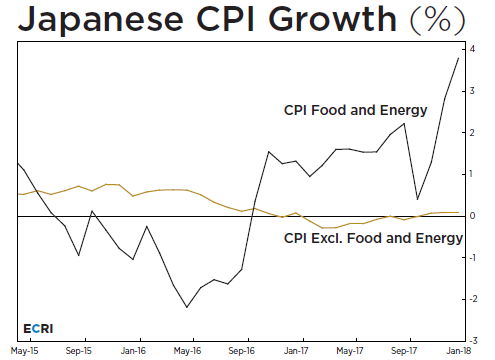 Indeed, the rise in headline Japanese CPI growth has not been pushed up by Japan's so-called "core-core" CPI (chart, gold line), which covers all items excluding energy and food but including alcoholic beverages. Instead, its rise has been due almost exclusively to growth in the energy and food-excluding-alcoholic-beverages CPI (black line).

First, energy prices turned up in mid-2016, but that impact has now faded. Then, in the past couple of months, a surge in the prices of vegetables and seaweeds, as well as for some fresh fish, has pushed up headline CPI growth (not shown).

Clearly, this is not the making of a sustainable revival in inflation, which is underscored by the fact that core-core CPI growth has hovered around zero since late 2016. To understand whether core-core CPI growth will pick up substantially one has to monitor the underlying inflation pressures, which are measured by ERCI's Japanese Future Inflation Gauge. For now, fairly low core-core CPI growth tarnishes the efficacy of the BoJ's massive monetary stimulus program, and also questions its ability to begin normalization in fiscal year 2019.

Click here to review ECRI's track record, including member report excerpts.

For more information on ECRI professional services please contact us.