Less Money, More Problems: Consumer Debt and Spending
Full version of this report excerpt released to ECRI clients on Nov. 7, 2018 -
Despite the latest Fed minutes indicating "ongoing gains in real disposable personal income," consumers increasingly rely on credit to make ends meet. With credit usage rising, higher interest rates and payments could snuff out consumption growth more quickly than many expect. Because monetary policy affects the economy with long and variable lags, the strain on U.S. consumer spending from the steady Fed rate hikes over the last two years is likely to intensify, even without further rate hikes.

While year-over-year real GDP growth has gained steam since mid-2016, that strength was not universally felt. A case in point is the share of personal income as a source of money for consumer expenditures. Typically, during long economic expansions, personal income becomes a larger source of money for spending because of rising wages.

However, as the chart shows, that share, while essentially flat since mid-2016, is at a record low (top line). Lately, in fact, income growth has been undershooting spending growth, with consumers using credit to make up the difference (bottom line).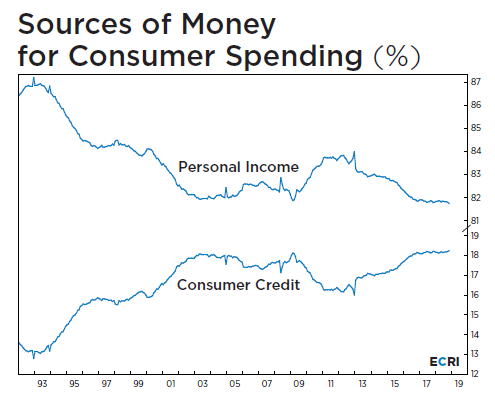 Digging deeper, most of the increase in consumer credit since the Great Recession has been non-revolving, in the form of loans for education, cars and homes. While the share of revolving consumer credit, such as credit cards, remains low by pre-recession standards, it has increased since 2015 (not shown), helping to fuel a boom in consumer debt. Regardless, "personal interest payments growth recently rose to an 11¼-year high, the highest since mid-2007" (USCO Focus, November 2018). Interest rates have risen over the past couple years and, despite falling recently, remain elevated enough to discourage consumers from buying big ticket items at the same time that higher interest payments will leave them with less money to cover other expenses.

It should come as little surprise, then, that interest-rate-sensitive sectors – including housing and autos – are set to take the first hit. In fact, the squeeze on consumer spending is taking place in the midst of a downturn in real home price growth and a construction sector slowdown. Considering that consumer spending accounts for 70% of GDP, the pressure higher interest rates put on consumers does not bode well for broader economic growth prospects.

Click here to review ECRI's recent track record.

For more information on ECRI professional services please contact us.