Italian Recovery Faces Unexpected Headwind
The full version of this report was released to ECRI clients on Mar. 29, 2018 -
The Italian election results shined a light on the economy's imbalances, as certain areas of its economy are weaker than others. Identifying key sectors of weakness and strength within an economy is critical for a clear yet nuanced outlook, which is why ECRI uses a wide array of specialized leading indexes for key economic sectors.

Although Italian GDP growth grew faster in 2017 than in 2016, its debt-to-GDP ratio is the second-highest in the Eurozone after Greece's, and its unemployment rate is still in the double digits. As a result, it has seen some of the slowest growth in the monetary union since the Global Financial Crisis. More recently, the manufacturing Purchasing Managers Index dropped to an eight-month low and the level of Italian industrial production (IP) declined again in February after rising for three straight months, both undershooting consensus expectations.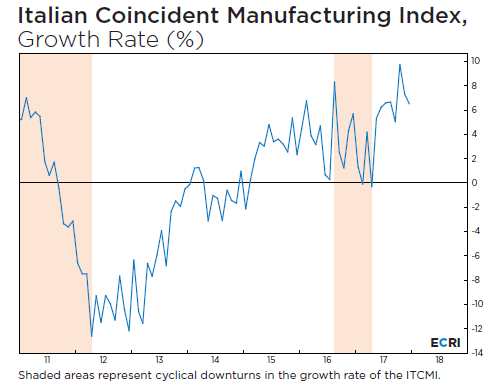 More importantly, year-over-year growth in our Italian Coincident Manufacturing Index (ITCMI), a broader measure of manufacturing activity than IP alone, has also declined from its high (Chart). ECRI's Italian Leading Manufacturing Index (ITLMI), designed to anticipate cyclical turning points in manufacturing activity growth, predicted the spring 2017 upturn in ITCMI growth (not shown). ITCMI growth then rose to a multiyear high last fall, before slipping in subsequent readings.

So, is the latest decline in ITCMI growth a temporary soft patch or the start of a manufacturing downturn? In this context, our ITLMI illuminates what lies ahead for the Italian industrial sector. If a cyclical shift is ahead, it would likely act as a headwind to the Italian economic recovery and further surprise the consensus.

Click here to review ECRI's track record, including member report excerpts.

For more information on ECRI professional services please contact us.