Globalization Has Been Reversing for Years
An excerpt from our "The Risk of Mistaking Cyclical for Structural" talk given at the Levy Economics Institute's Minsky Conference, April 17, 2018. –
ECRI's measure of globalization is the difference between the growth rates of world trade and GDP, because globalization implies faster growth in trade than in GDP. It shows that globalization has both structural and cyclical components.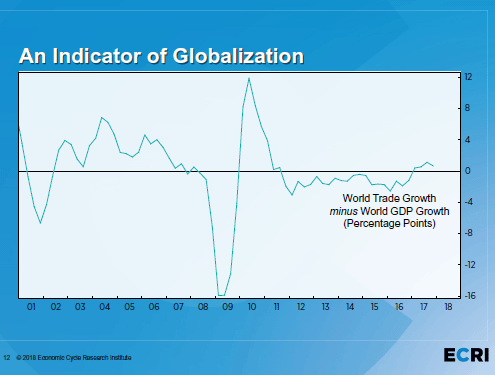 Structural globalization becomes evident when this measure is substantially positive for an extended period. This is what happened when, what we called "the globalization tsunami" over 14 years ago hit the world economy between the beginning of the 21st century and the Global Financial Crisis.

Following the financial crisis, however, the structural retreat of globalization becomes evident, with the same metric staying below zero through 2016. While it edged above zero in 2017, it is already turning down, and probably reflects a nascent cyclical downturn as the synchronized global growth upturn comes to a close.

Click here to download the full presentation, including notes.

Click here to review ECRI's track record, including member report excerpts.

For more information on ECRI professional services please contact us.