Fracking Boom Masks Manufacturing Sector Weakness
Industrial production (IP) growth reached a 47-month high in June (not shown), but a confluence of factors is masking underlying weakness. When headline economic data are being distorted by large swings in underlying components and exogenous shocks, ECRI's forecasting framework cuts through the noise to reveal the true direction of growth.

Recently, headline IP has been skewed by two factors. First, after a fire in a Michigan auto parts factory disrupted production of America's bestselling pickup in May, auto parts and vehicle production bounced back in June. Second, and more importantly, IP has been boosted by a strong increase in IP energy growth.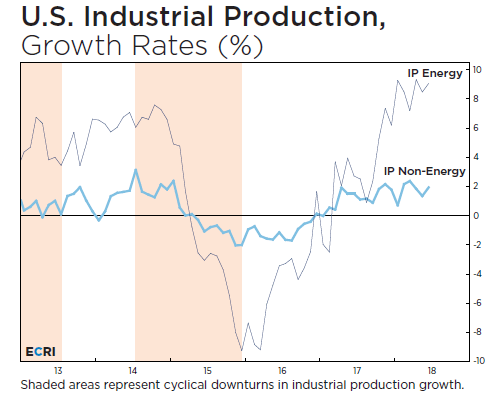 This becomes evident when looking at the year-over-year growth rates of IP energy and IP non-energy (Chart). While IP energy growth dropped deep into negative territory with the end of the first fracking boom, it started to recover in the spring of 2016 and has since experienced strong growth (dark blue line). Meanwhile, growth in IP non-energy, which turned up in late 2015, has been much more subdued (light blue line). As a result, by last summer, a gap between the growth rates of IP energy and IP non-energy had formed. The divergence has widened significantly since then.

The point is that headline IP growth has been propped up by one sector, and is unlikely to be sustained. In fact, despite the rebound in auto parts and vehicle production, growth in both IP energy and IP non-energy remain below their recent highs. Moreover, the surge in energy production has been spurred in part by temporary overseas supply cuts, which drove up oil prices. With this in mind, it would be risky to take much comfort in these strong production numbers, especially as economic slowdowns are taking hold both domestically and internationally.

Click here to review ECRI's recent track record.

For more information on ECRI professional services please contact us.