Flashback: China Wasnít the Only Trade War Threat
Last summer, amidst widespread complacency in the markets about the prospects for a trade deal, ECRI's research was focused on the economies that were most vulnerable to a trade dispute with the United States.

While most of the focus lately has been on China, we pointed out back then that, among its key trading partners, Mexico was far and away the most exposed to a fallout from a protracted conflict with the U.S. As the chart shows, goods exports to the U.S. account for nearly 30% of Mexico's GDP.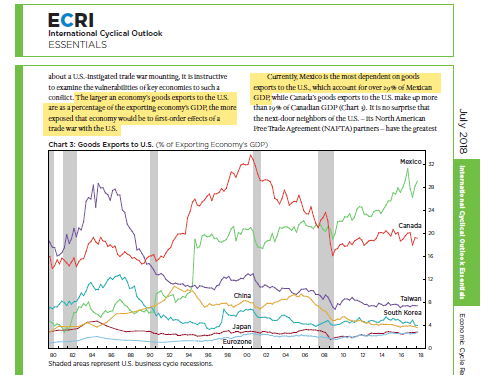 Download report excerpt here.

The key takeaway is that, while most other major economies have been reducing their relative exposure to U.S. markets for years, Mexico's vulnerability has increased considerably since the Global Financial Crisis.

While it is yet unclear how long the latest round of tariffs on Mexico will last, we are certain that, barring their immediate removal, the impact on the Mexican economy will be greater than most realize. This insight, offered during a relatively calm period for the markets, reflects the value of following ECRI's work.

Click here to review ECRI's recent real-time track record.

For information on ECRI professional services please contact us.

Follow @businesscycle on Twitter and on LinkedIn.