ECRI's Prescient EM Downturn Call Remains in Force
Widespread fears over emerging market (EM) weakness have roiled the markets lately. While the consensus is scrambling to understand the risks, and some advocating a value-play, ECRI clients were prepared for this moment months ago.

In early June, ECRI's analysis of many different proprietary leading indexes for emerging markets cycles in growth and inflation concluded that "ECRI's indexes reveal a growing confluence of cyclical risks for emerging market economies." Since then, EM has tumbled.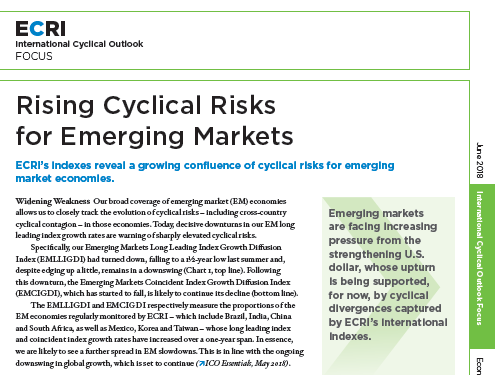 In his recent Bloomberg TV interview, ECRI's Lakshman Achuthan shared our EM view publicly. Notably, an upturn is not yet in sight, but we are focused on that key turning point signal to sound the all-clear call when appropriate.

Click here to review ECRI's recent track record.

For more information on ECRI professional services please contact us.