Cyclical Risks Amid Global Trade War
The full version of this report was released to ECRI clients on Aug. 8, 2018 -
Trade tensions remain heightened between the U.S. and Eurozone, even though a full-blown trade war has been averted – for now. Consequently, it is important to understand how exposed the Eurozone is to U.S. trade disruptions, as well as the near-term outlook for Eurozone real export growth.

As it is a relatively open economy, the Eurozone's exports to non-Eurozone countries have become an ever-more-important driver of its economic growth and now account for over 25% of GDP, with the U.S. being its largest trading partner. Meanwhile, the U.S. accounts for a smaller share of Eurozone imports, giving the U.S. more leverage in a trade war with the Eurozone.

Almost regardless of how any trade war develops, the near-term direction of export growth for a country is determined by the cyclical drivers of exports constituting ECRI's leading export indexes. These indexes provide a clear picture of what lies ahead and are particularly important to monitor during such a tumultuous time for trade, as cyclical forces determine how vulnerable a country is to structural changes, like higher tariffs.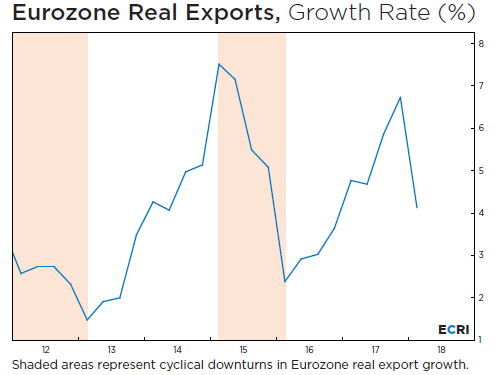 In the Eurozone, Q1 real export growth dipped to a five-quarter low (Chart), as anticipated by a downturn in the year-over-year growth rate of the Eurozone Leading Exports Index (EZLExI, not shown).

Whether or not export growth will continue to decline is likely to have a significant impact on the Eurozone's overall economic growth outlook and relative negotiating leverage, and that has already been foretold by the latest update to our EZLExI.

Click here to review ECRI's recent track record.

For more information on ECRI professional services please contact us.