Cyclical Components of Job Growth Weakened in March
The more cyclical component of jobs growth remains under pressure, with year-over-year (yoy) nonfarm jobs growth excluding education and health falling to an 11-month low, whereas yoy growth in education and health rose to a 19-month high (chart).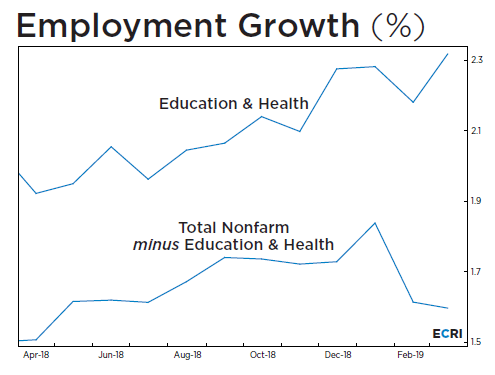 ECRI's Lakshman Achuthan joined Real Vision on March 13th to discuss our 2018 slowdown call, ECRI's research process and insights, and updates to our public outlook.

Real Vision has opened full access to the interview and you can watch it here.
Lakshman Achuthan (@businesscycle) joins us back on Real Vision following up on his April 2018 appearance, where he predicted a slowdown in US growth. Curious for an update? Watch now to find out if he believes this slowdown will continue. https://t.co/XBU4pUxGlA pic.twitter.com/Vgqk65wHcR

— Real Vision (@realvision) March 20, 2019

Click here to review ECRI's recent real-time track record.

For information on ECRI professional services please contact us.

Follow @businesscycle on Twitter.