Consumers Risk Overdosing on Credit
The full version of this report was released to ECRI clients on Feb. 7, 2018 -
Through ECRI's research, we are able to distinguish between cyclical and structural forces impacting economic growth. Underlying the cyclical weakness evident in the latest retail sales data, one important structural trend that we have observed over the years is that American consumers have become ever more reliant on credit to finance their expenditures.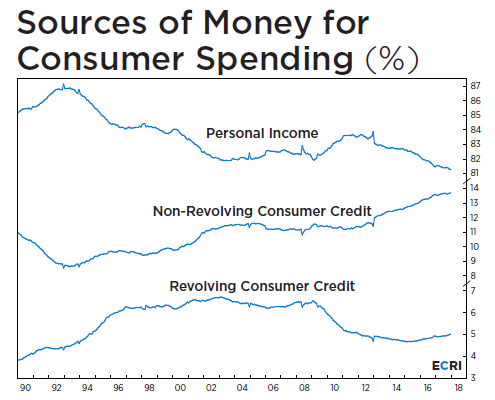 The chart shows three key sources of money that consumers rely on to finance purchases – personal income, non-revolving credit, and revolving credit.

While personal income remains the main funding source, its importance has actually decreased over time. That decline began in the early 1990s, but has seen a renewed downturn since 2012 (top line).

Meanwhile, from its late 1992 low, the share of non-revolving credit, which is comprised mostly of motor vehicle and education loans, has been steadily trending up, except for a stretch of stability around the Great Recession (middle line).

The share of revolving debt, which had risen sharply following the widespread introduction of credit cards, stabilized from the early 1990s until the financial crisis (bottom line). Thereafter, it declined sharply before bottoming out in 2015. Notably, its share has only recently started to recover.

With the shares of both types of credit now rising in tandem, the personal-income share of consumer spending has fallen to a record low. This sets up a situation where the reliance on credit to finance purchases could lead to a rude awakening if incomes do not rise apace. Of course, higher interest rates would also increase the debt servicing burden of already-stretched consumers.

Click here to review ECRI's track record, including member report excerpts.

For more information on ECRI professional services please contact us.