Business Investment Prospects Dim
The full version of this report was released to ECRI clients on Aug. 17, 2018 -
Investment growth prospects are actually waning, despite the widespread belief that they are in an upswing. While exogenous positive shocks like tax cuts can provide a short-term boost to investment spending, investment growth is mostly driven by endogenous cyclical forces that can be monitored using ECRI's cyclical framework.

The upturn in year-over-year (yoy) fixed investment growth, which has been rising since late 2015 and reached a 3½-year high in the latest quarter, is less robust than suggested by the headline number (not shown).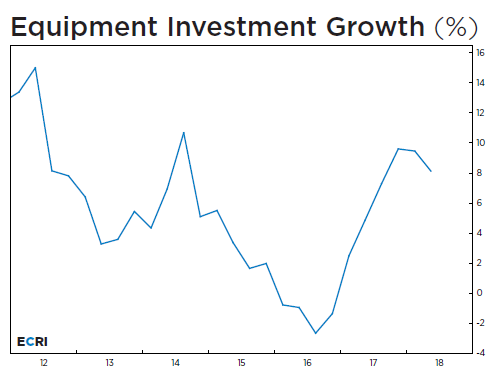 In fact, the growth rate of residential fixed investment, which accounts for almost one-fifth of total fixed investment, remains in a downtrend and near a seven-year low. Meanwhile, the yoy growth rate of investment in equipment, which makes up nearly 40% of total fixed investment, has begun to turn down (chart).

Instead, the recent increase in the growth rate of fixed investment has been driven by intellectual property products and structures. While the structures category only makes up one-sixth of fixed investment, it accounted for a third of the rise in fixed investment in the second quarter.

Furthermore, almost all of the pickup in structures investment comes from the mining exploration, shafts and wells subcategory, where investment has more than doubled in the past year and a half, even though mining and oilfield machinery investment has declined a bit this year (not shown). It is really the energy prospecting investment tail – which makes up just 4% of fixed investment – that is wagging the investment dog.

Clearly, the current increase in overall fixed investment growth is concentrated in these items, suggesting that it may not be as sustainable as many believe. In this context, the challenges of low productivity growth since the last recession remain, as low business investment in the post Great Recession era has been a key contributing factor. In the short run, the recent weakness in the growth rate of the investment in equipment is reflective of the stealth slowdown, which is already underway.

Click here to review ECRI's recent track record.

For more information on ECRI professional services please contact us.