BRIC Economies Growth Potential Weakens
An excerpt from our "The Risk of Mistaking Cyclical for Structural" talk given at the Levy Economics Institute's Minsky Conference, April 17, 2018. –
We have shown that every G7 country is headed in the wrong direction, with potential GDP growth converging toward 0-1%. An analogous chart for the BRICs shows that they too have potential growth downshifting. The same productivity data is not available, so we substitute GDP per person employed as a proxy. The starting coordinate for each country is the 1991-2007 average.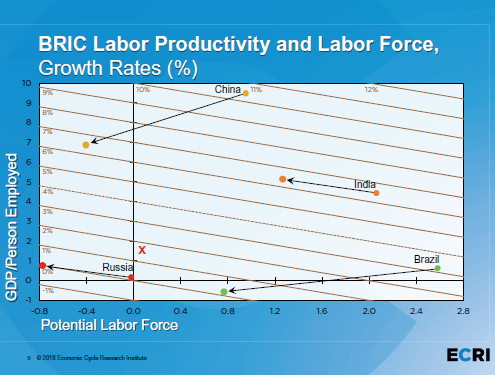 Brazil and Russia's potential GDP growth rates are both heading down to zero. China and India have much better prospects, but even China is losing altitude, from 10½% to 6½% trend GDP growth, as potential labor force growth turns negative, and productivity growth slows. Potential labor force growth for India is also falling, but is still the strongest of the lot, and its productivity growth is improving, so potential GDP growth is likely to stay around 6½%.

Taking this information for the G7 and BRICs together, it's evident that, structurally, the world's growth potential has downshifted. Yet, the prevailing wisdom is that we are seeing a structural upshift away from low trend growth and lowflation, starting with the U.S.

This is because people are confusing a cyclical upturn with a structural upshift.

Click here to download the full presentation, including notes.

Click here to review ECRI's track record, including member report excerpts.

For more information on ECRI professional services please contact us.