Behind the (Yield) Curve: Assessing the Recession "Predictor"
The full version of this report was released to ECRI clients on May 25, 2018 -
Many people have fun with the old adage that the stock market "has predicted nine of the last five recessions." Yet, the yield curve is given more respect on this score, even though it has inverted ahead of just six of the last 13 U.S. recessions.

Geoffrey Moore, whom The Wall Street Journal called the "father of leading indicators," determined decades ago that the yield curve wasn't a robust recession predictor, so ECRI has never used it for that purpose. Historically, it has not only failed to invert ahead of recessions, but has also issued multiple false alarms.

ECRI revisited the issue in 2005, basing its analysis on "the most widely researched and discussed yield curve definition, i.e., the difference between yields on ten-year and three-month government securities" in five key advanced economies — the U.S., the U.K., Japan, Germany and France (ICO, August 2005). We concluded that inverted yield curves correctly predicted just over 60% of recessions, and that "[i]n the U.S. and U.K., they also issued false alarms … 38% of the time yield curve inversions took place."

We've updated that research again, in the wake of the Global Financial Crisis (GFC) and unprecedented QE around the world. Again, the yield curve remains troublesome as a recession predictor. For example, it failed to invert ahead of the last five Japanese recessions. Meanwhile, no inversions preceded the early-21st-century recessions in Germany and France, nor the 2011-12 French recession, and their spreads turned negative in those two countries for only a few days during – not ahead of – the GFC (ICO Essentials, May 2018).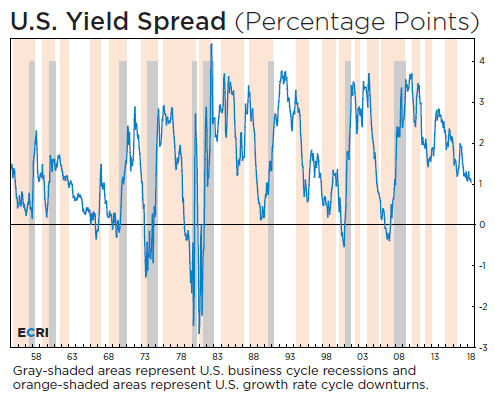 The yield curve is no "canary in the coalmine," as the chart shows. Nevertheless, its recent flattening in the U.S., following downturns in the growth rates of our array of U.S. leading indexes, is consistent with our earlier slowdown call.

On a related note, in the face of what may well amount to a "regime change" engineered by major central banks, fluctuations in a yield curve whose slope was distorted by unconventional monetary policy in the wake of the GFC are liable to be somewhat atypical with regard to the business cycle. This brings us back to what Geoffrey Moore had concluded decades ago: for those seeking a reliable, forward-looking estimator of recession risk, there is no single indicator that can do the job reliably. Rather, an array of reliable leading indexes for different aspects of the economy is called for.

Click here to review ECRI's track record, including member report excerpts.

For more information on ECRI professional services please contact us.