A Cyclical Leading Index of Global Growth
An excerpt from our "The Risk of Mistaking Cyclical for Structural" talk given at the Levy Economics Institute's Minsky Conference, April 17, 2018. –
ECRI's measure of globalization is the difference between the growth rates of world trade and GDP, because globalization implies faster growth in trade than in GDP. This measure experiences cyclical swings associated with cycles in global growth because, during an upturn in global growth, international trade tends to grow faster than global GDP, while the opposite is true during a global growth downturn.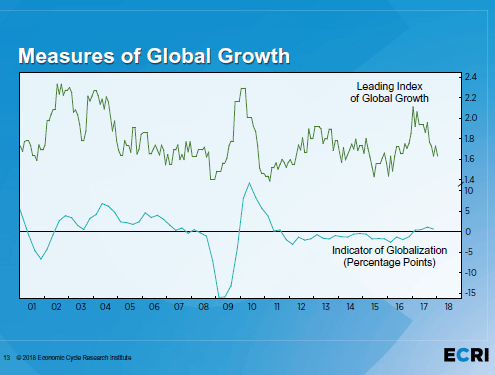 In fact, while this globalization measure edged above zero in 2017, its latest moves likely reflect a nascent cyclical downturn as the synchronized global growth upturn comes to a close. The evidence comes from our Leading Index of Global Growth, which is particularly prescient about cyclical downturns in economic growth (top line). Therefore, the current cyclical downturn in this leading index, which correctly anticipated the global growth upturn in mid- 2016, is especially meaningful.

Following that downturn, our measure of globalization, which rose above zero last year in the course of its cyclical upswing, has already ticked down (bottom line). Meanwhile, though year-over-year global GDP growth is still rising, it's begun to flatten out and should roll over in the coming quarters.

Click here to download the full presentation, including notes.

Click here to review ECRI's track record, including member report excerpts.

For more information on ECRI professional services please contact us.