Brazilian Cyclical Growth Prospects
Three years ago Brazil was about to host the World Cup, with an opportunity to showcase just how far it had advanced. Instead, the commodity bust arrived and the economy imploded, with Brazil entering a severe business cycle downturn.

In fact, Brazil remains mired in a deep recession – the worst on record. This is clearly evident from the sharp decline in the level of ECRI's Brazilian Coincident Index (BRCI), a broad summary measure of economic activity (chart), which remains close to November's 7½-year low, despite edging up lately. In order for Brazil to exit recession, the level of the BRCI would have to enter a clear cyclical upturn.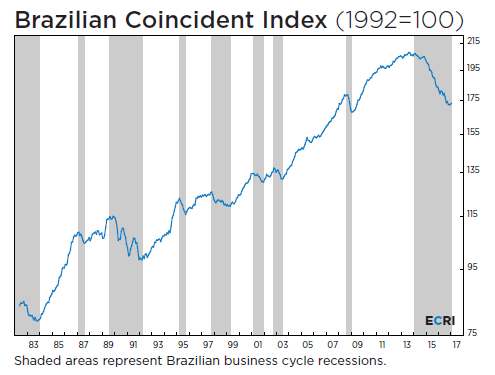 Yet, Brazilian stocks have stayed in a bull market as the consensus view has turned more positive over the course of last year. Meanwhile, the latest finance minister, Henrique Meirelles, maintains that the economy is growing again, despite another contraction in GDP in Q4. The key question is whether or not these hopes of an end to recession are warranted.

In this context, our latest report builds on our earlier call regarding Brazil's growth rate cycle, and features the Brazilian Long Leading Index, which definitively answers whether or not Brazil is set to finally emerge from its long recession. It also presents our wide-array of Brazilian-specific leading indicators – including those for overall economic growth, inflation, exports and manufacturing – for other insights into the cyclical prospects for South America's largest economy.