Brazil's Stagflation Scenario
The rollercoaster ride for Brazilian inflation may not be over yet. From its January 2014 low, year-over-year (yoy) CPI growth climbed to 10.7% in January 2016, only to plunge 8.3 percentage points by August 2017 (chart).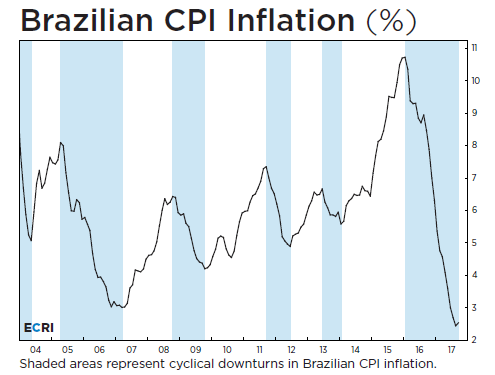 Spurred by this sharp disinflation, the Banco Central do Brasil (BCB) cut its target rate six percentage points over the past year, and plans another 1¼ percentage points in cuts by early 2018. But, what if Brazilian inflation has bottomed out?

Indeed, ECRI's Brazilian Alternative Future Inflation Gauge (BRAFIG) is designed to anticipate cyclical swings in yoy Brazilian CPI growth, typically leading cyclical turns in Brazilian inflation by about half a year. The BRAFIG climbed to a 12-year high in April 2015 (not shown), anticipating the early-2016 peak in Brazilian inflation. The BRAFIG then dropped to a 17-year low at the start of this year, and Brazilian inflation has since plunged.

Now, however, yoy Brazilian CPI growth has ticked up, perhaps signaling a nascent inflation upturn. Of course, the latest update to the BRAFIG clarifies whether this uptick in inflation is simply noise or a cyclical turn. If an inflation cycle upturn is taking shape, the Brazilian economy may face a fresh bout of stagflation, as the economy is still struggling to find its footing in the wake of its depression.