Amid Headwinds, Mexican Exports Surge
The consensus view of prospects for the key Mexican export sector has been bolstered of late, with exports driving much of the stronger-than-expected GDP print in Q1 2017 that led the Bank of Mexico (Banxico) to upgrade its 2017 GDP growth estimate. Furthermore, concerns that the Trump administration would impose a broad tariff on Mexican exports to the U.S. have receded, reducing a major threat to export prospects.

Exports are central to the Mexican economy, given that they account for nearly 40% of GDP, and goods exports to the U.S. alone contribute almost 30%, meaning that Mexican exports are closely tied to the U.S. manufacturing sector.

ECRI's Mexican Leading Exports Index (MXLExI) is specifically designed to anticipate cyclical turns in Mexican real exports. Indeed, cyclical turns in MXLExI growth consistently lead those in Mexican real export growth, typically by about two quarters.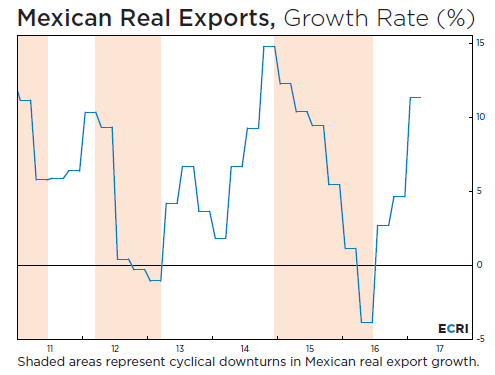 Following the April 2016 trough in MXLExI growth (not shown), Mexican real export growth bottomed in mid-2016 (chart). By Q1 2017, Mexican real export growth had surged to a two-year high. However, we warned in April that "the U.S. dollar has weakened against the peso since mid-January," posing a threat to the export outlook.

While the risk of a border adjustment tax has diminished, the exchange rate headwinds persist. ECRI's latest update to the MXLExI clarifies whether Mexican exports will continue their recovery, boosting overall growth, or if the export resurgence is petering out, likely disappointing Banxico and the consensus.