After Four Years of Recovery, Spanish Jobless Rates Still Elevated
Nearly a decade ago, Spain entered its most severe recession on record, and even now, four years after that epic recession finally ended, the economic recovery continues to underperform in nearly every respect. Notably, none of the coincident indicators, which collectively define the state of the business cycle, have made a full recovery. Indeed, employment has only gained back 42% of its recessionary loss.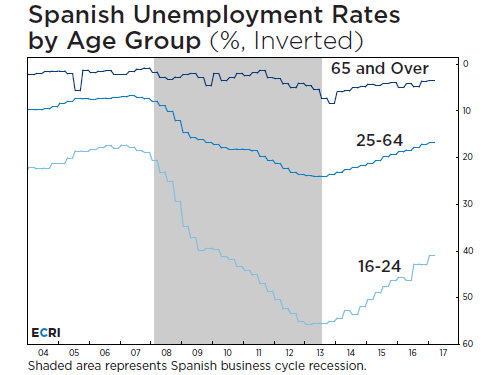 As a result, while jobless rates across age groups have fallen over the past four years, they are still far above pre-recession unemployment rates (chart). The jobless rate for the prime-working-age 25-64 cohort, currently sitting at 16.8%, is still ten percentage points above its pre-recession rate (blue line, shown inverted). Meanwhile, the 65-and-over age group has fared a little better, with its unemployment rate declining to 3.5% (dark blue line).

But it is among the youth that the situation – despite some improvement – remains dire, an international issue we first highlighted over six years ago. In fact, the youth jobless rate is still staggeringly high at 41%, and has not returned to its earlier lows across all education levels (not shown). Thus, the recovery in youth employment continues to be incomplete, and remains an intractable structural problem.

Our latest report delves into the prospects for youth and overall employment. We also take an in-depth look into the cyclical outlook for the broader economy, shedding light on whether the Spanish economic recovery is set to continue, or if recession is likely.