Korean Productivity Way Down
A month before the 2008 collapse of Lehman Brothers and well before the secular stagnation debate began in the fall of 2013, we showed how U.S. GDP growth had been stair-stepping down in successive business cycle expansions. We then expanded this analysis to other major economies, with similar results, developing our "yo-yo years" thesis, which predicts more frequent recessions in developed economies. One key driver of this long-term decline in trend growth has been weak productivity growth, which, together with potential labor force growth, adds up to potential GDP growth. The simple math behind our observation is plain to see.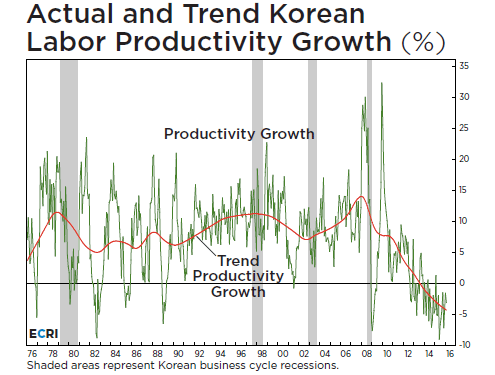 In South Korea, trend nominal GDP growth has fallen sharply from 35% in the mid-1970s to near 3% now (not shown). As in the U.S. and other advanced economies, falling productivity growth is partially to blame. The chart shows that year-over-year (yoy) productivity growth has plummeted since the Global Financial Crisis (green line), and, while trend productivity growth averaged 8.5% from 1976 to 2007 – including double-digit growth from mid-1994 to early 2000 – it has now plunged deep into negative territory (red line).

In our recent cyclical update on the Korean economy, we review what is driving Korean productivity growth down, and shed light on the Korea's cyclical growth prospects.