Japanese Business Investment Drags on GDP
After a stronger-than-expected initial reading, Japan's Q3 2016 GDP growth was revised down in December to 1.3%, mainly due to business spending growth being cut from zero to -0.4%. This followed the Cabinet Office's implementation of a new methodology in December that used businesses' capital expenditure data to calculate business spending. Thus, the outlook for capital expenditures has recently taken on increased importance in determining GDP.

ECRI's Japanese Long Leading Index (JALLI, not shown), designed to anticipate cyclical turns in economic cycles, anticipated the ongoing weakness in Japanese capital expenditure, with JALLI growth entering a cyclical downturn in mid-2015. Indeed, capital expenditure growth has been easing since the fall of 2015 (chart). It then fell further to a three-and-a-half-year low in Q3 2016, after dropping into negative territory in Q2 for the first time since Prime Minister Shinzo Abe was elected on a platform promising to pull the economy out of stagnation and deflation.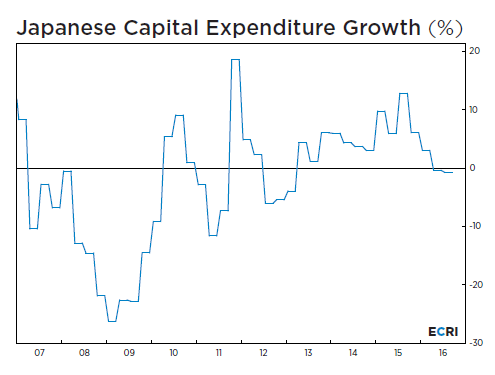 Given its heightened importance as a driver of GDP growth, it is critical to anticipate when capital expenditure growth will turn up. ECRI's latest update to JALLI growth, which has consistently anticipated cyclical moves in capital expenditure growth, provides the answer.