Japan's Economy Keeps Surprising the Consensus
The last quarter of 2015 saw a contraction in Japan's GDP, and 2016 started with year-over-year inflation dipping back into negative territory for the first time in over 2½ years. Obviously, this is not what Prime Minister Shinzo Abe and Bank of Japan (BoJ) Governor Haruhiko Kuroda had envisaged when Abenomics was launched over three years ago. Trying yet another approach to boost growth and inflation, the BoJ adopted a negative interest rate policy (NIRP). However, the market response has been the opposite of what was expected, perhaps reflecting concerns about the potential of Abenomics.

Nevertheless, both consensus expectations and Mr. Kuroda remain optimistic that Japan will avoid another recession this year, having wrongly concluded last year – unlike ECRI – that Japan had entered a recession. In 2014, however, we had correctly predicted a recession, Japan's fourth since 2008. Another recession this year – which would be the second one since Abenomics was introduced – could deal it a fatal blow.

Employment, with a particular focus on women in the workforce, has been a specific concern for Mr. Abe. Since the 20th century, Japan has moved away from its well-known model of lifetime employment. Consequently, the share of those employees classified as non-regular – employees who face higher uncertainty and earn less than regular employees, even for the same work – has more than doubled since the mid-1980s.

While the percentage of women among total employees has grown from 35% in 1985 to almost 45% in 2015, women are disproportionally being hired as non-regular employees. In fact, over the same time frame, the share of female non-regular employees has increased from 32% to 56% (Chart, pink line), while the share of female regular employees decreased from 68% to 44% (red line). Meanwhile, the percentage of males who are non-regular employees has almost tripled from 1985 to 2015 (not shown). With nearly 40% of Japanese employees stuck in such positions, this is a serious problem for not only the labor market and consumer spending, but also the overall economy.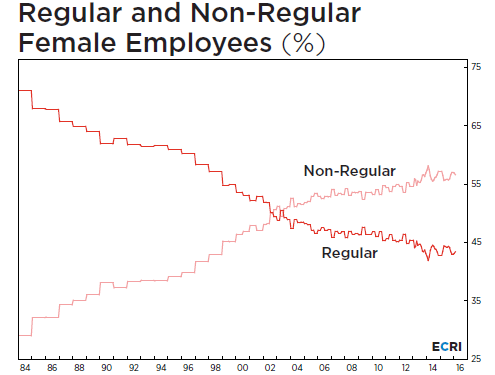 Clearly, a fifth recession since 2008 could be the final straw for Abenomics. In this context, ECRI has just completed an in-depth cyclical study, assessing our wide array of leading indexes. Those same indexes correctly predicted cycle turns that surprised the consensus. Today, our latest report clarifies the economic outlook for the Japanese economy and the likelihood of recession. Equally important, it also provides insights for other advanced economies exploring their own policy initiatives to stimulate growth.