It's High Time to Raise Rates, or Not
Last summer, Fed Chair Janet Yellen highlighted real Average Hourly Earnings (AHE) growth as a key metric to watch, observing that it was "nonexistent." She contended that, as a result, "[t]here is some room … for real wage gains before we need to worry that that's creating overall inflationary pressure for the economy."

But, as we had pointed out, because it is swings in inflation that largely drive swings in real AHE growth, real wage gains usually accompany inflation downturns. As a result, the Fed has scarcely ever raised rates with real AHE growth well above zero.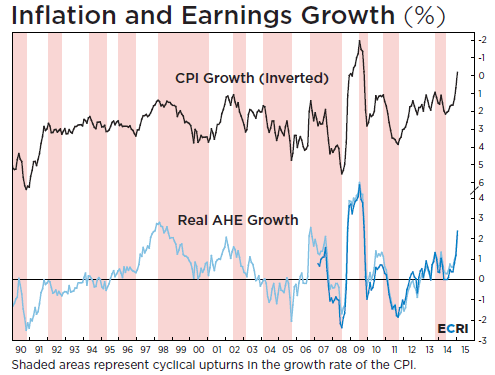 Today Ms. Yellen's summer dream is a reality, because yoy real AHE growth has skyrocketed to a five-year high of 2.4% – a far cry from "nonexistent." If she meant what she said then, the Fed would have to break with its well-developed precedent and start raising rates now, i.e., when yoy CPI inflation is -0.2%.

The time has come to follow real AHE growth, or CPI inflation. As clear as any two-handed economist can be, there is now no reason to push off rate hikes, unless of course, there is.