International Home Price Outlook
Years of extremely low interest rates around the world have helped foster housing bubbles in several markets. This, in turn, has both increased fears of a price collapse and heightened anxieties surrounding housing affordability.

These housing bubbles are evident from measures of housing affordability for the major English-speaking economies (Chart, indexed to Q1 2001), defined as the ratio of nominal home prices to nominal personal disposable income (PDI). When the ratio increases, homes become less affordable relative to income.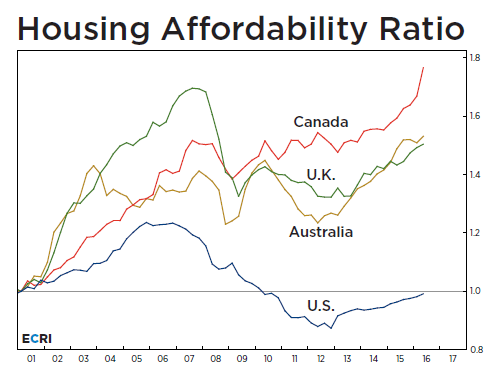 The housing affordability ratios for Canada (red line) and Australia (gold line), dating back to the mid-1970s, have reached record highs. Australia, and to a lesser extent Canada, have seen easing growth in nominal PDI following the Global Financial Crisis (GFC), while home price growth has risen. In Canada, home price growth has surged this year, especially in Vancouver (not shown), where new restrictions and taxes have recently been implemented to help cool its market.

Meanwhile, the U.S. housing affordability ratio (blue line), after declining steadily since 2006, began to creep back up in 2012. Still, the U.S. remains among the most affordable countries for homes, the key exceptions being Germany and Japan (not shown). In the U.K. (green line), the housing affordability ratio surged until the eve of the GFC, before falling and then rebounding. Though this ratio has not reached its previous high, housing has become less affordable in recent years.

As housing has become less affordable in these economies, a sudden popping of housing bubbles becomes a greater risk, even with certain authorities starting to enact restrictions to cool the markets. In this context, ECRI has completed an in-depth study on international home prices, including an analysis of affordability for these and other economies, outlining cyclical prospects for international home price growth.