Internal Devaluation with a Vengeance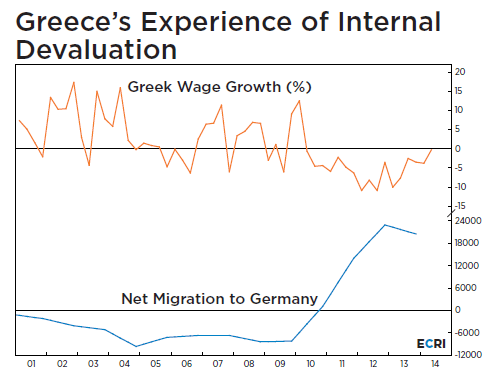 In Greece, year-over-Year (yoy) wage growth grew at a double-digit rate throughout 2002, hitting a high above 17% by year-end (top line). After some gyrations, including a few more forays into double digits, wage growth sank in Q2 2010 into negative territory, where it has since remained. In fact, over the last five years, the wage level in Greece has dived by 18%. This is internal devaluation with a vengeance.
When labor market conditions in one's home country get sufficiently adverse, the last resort may be to uproot oneself and move to a country where more jobs are available – in this case, Germany. The chart (bottom line) shows that net migration from Greece to Germany was negative from 1996 to 2009, i.e., more workers moved from Germany to Greece. But in 2010, labor migration from Greece to Germany began to surge, topping 20,000 in 2012 and 2013.