India Bucks the Structural Trend
While global growth decelerates and world export volumes decline, India is bucking the trend. Indeed, following the upturn in the growth rate of ECRI's Indian Leading Exports Index (INLExI), Indian export growth has topped a two year high (not shown).

With exports accounting for over 20% of India's GDP – having nearly doubled in 20 years – rising exports growth is even more critical. This is because, while it has a substantial domestic market, India has become more export-dependent, with exports increasing in both goods and services.

Contrary to popular belief, India has always exported more goods than services. However, services exports have risen considerably in the 21st century, with India becoming the world's back office. Yet, goods exports have also kept growing, peaking at almost 18% of GDP in Q3 2013 before falling rather substantially as global growth slowed (Chart, blue area).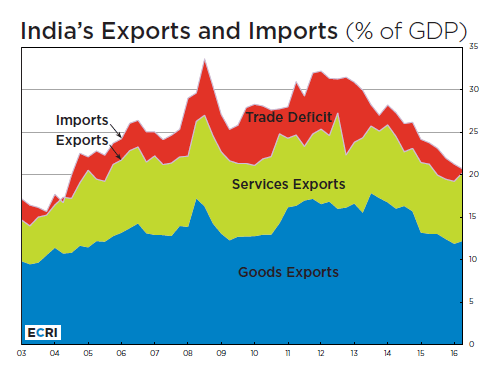 Meanwhile, services exports as a percentage of GDP have held up, recently rising to a one-year high (green area), while the goods exports percentage improved to a half-year high. And with imports as a percentage of GDP sliding to its lowest reading since 2004 – due in part to the plunge in crude oil prices and policy measures to curb gold imports – the Indian trade deficit has almost vanished for the first time in 12 years (red area). This is creating a tailwind for Indian economic growth.

The recent Reserve Bank of India (RBA) rate cut occurred in the context of CPI inflation easing in August from July's two-year high, which the RBA may have seen as a window of opportunity. However, this window may be shorter than some expect, with the latest update to ECRI's Indian Alternative Future Inflation Gauge (INAFIG) revealing critical information about the future trajectory of inflation and potentially complicating future monetary policy decisions.

Separately, the government has instituted major structural reforms lately, but it remains to be seen how much these changes will boost India's long-term economic growth potential. In this context, our latest analysis takes an in-depth look at the cyclical and structural changes in India, featuring a number of our India-specific leading indexes, including the INLExI and INAFIG for essential insights into India's economic growth and inflation prospects.