In NAIRU We Must Trust
With the jobless rate falling throughout 2015, the slowdown in year-over-year job growth since early 2015 has gone largely unnoticed by the consensus. Despite the clear weakening in employment growth, the Fed is content to take the unemployment rate as the main barometer of labor market health.

Of course, recognizing the weakening labor market would undermine the Fed's justification for its rate hike cycle, as borne out in the Federal Open Market Committee (FOMC) projections that the jobless rate will fall to 4.7% by the end of 2016 and remain there for the next two years, while the longer-run jobless rate — or the non-accelerating inflation rate of unemployment (NAIRU) — has been revised down to 4.9%. The expectation that the unemployment rate will stay below the NAIRU for two years is important because, theoretically, a sub-NAIRU jobless rate is inflationary, and in turn justifies the Fed's rate hike plan.

However, the Fed has repeatedly misjudged the NAIRU, and there is little reason to believe they have it right this time. Since August 2013, the Fed has revised down its estimate of the NAIRU six times, from 5.6% to 4.9% (Chart, dark blue line, inverted). The unfettered decline in the jobless rate (blue line, inverted) without an inflation upturn has forced the Fed's hand, if only to maintain the plausibility of the Phillips curve.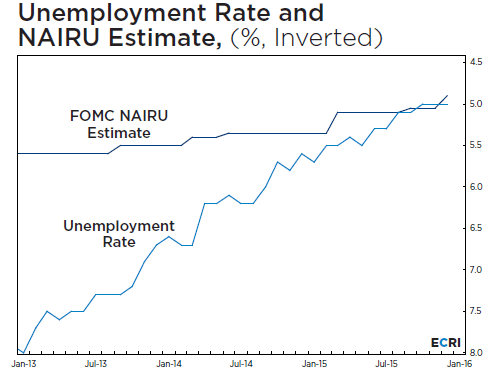 Furthermore, the Fed projections ignore the fact that the jobless rate constantly churns through cycles, and rarely ever stagnates for more than a few months — typically at turning points. Thus, unfortunately for the Fed's rate hike cycle justification, it is unrealistic to expect the jobless rate to be stuck at — or near — 4.7% for any period of time, let alone two years.