Holiday Blues
With year-over-year (yoy) growth in industrial production falling to a 70-month low, all eyes are on the U.S. consumer as the Fed prepares to begin a rate hike cycle. The question is whether consumer spending will be robust enough to offset the industrial weakness, thereby giving the Fed a green light for a series of rate hikes.

Unfortunately, since reaching a three-year high last year, yoy nominal personal consumption expenditures (PCE) growth (light blue line) has fallen substantially, and the reason for this weakness is not far to seek. Indeed, yoy nominal PCE growth and yoy disposable personal income growth (dark blue line) generally move in tandem, and they have declined in virtual lockstep over the past year or so.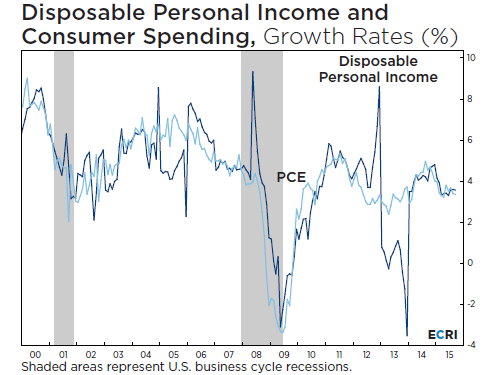 Separately, the recent jobs report, showing yoy average hourly earnings growth rising to a six-year high, has provoked hopeful commentary about rising wage growth and its implications for consumer spending. But that uptick was merely the result of yoy aggregate hours growth falling faster than yoy aggregate pay growth, both downturns being consistent with a worsening U.S. slowdown. Yet, when headline employment data shows improvement, it seems that the consensus prefers to pay only lip service to the adage that a single month's data is not a trend.

Thus, with yoy PCE growth in a downturn and wage growth picking up only due to adverse moves in its components, the coincident measures of consumer spending are not encouraging. Meanwhile, ECRI's proprietary U.S. Leading Index of Consumer Spending already paints a clear picture of consumer spending prospects in coming months.