Hard Data Confirms Industrial Slowdown
Earlier this month, the industrial production (IP) release disappointed the consensus, adding to a slew of weak economic data. Clearly, despite the spreading conviction that the growth outlook for the U.S. economy in general, and the manufacturing sector in particular, had improved materially, the hard data tell a very different story.

As the chart shows, the smoothed growth rate of IP has now plummeted to a 6½-year low (top line). Indeed, IP growth for mining has nosedived to a 7½-year low (thicker blue line, lower panel), and IP growth for utilities has sunk to a four-year low (thinner blue line, lower panel). But growth in IP for manufacturing – which is quadruple the size of mining – has fallen well below its late 2014 high and sits a hair's breadth above a 26-month low (middle line). This is because IP growth rates for both durable and non-durable goods have weakened lately (not shown).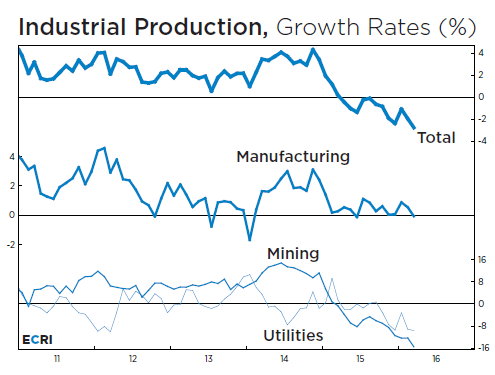 The inference from the hard data is unambiguous: we are well into a pronounced, pervasive and persistent downturn in IP growth. Notably, the weakness in IP and the overall economy is consistent with the cyclical slowdown that ECRI warned of at the beginning of last year.