Globalization in Reverse
In early 2015, we rhetorically asked "what did the global economy get for $11,000,000,000,000 in QE?" After a brief post-recession recovery, the volume of global export growth had fallen considerably, despite falling growth in export prices. By 2016, the situation had become worse, with the growth rates of both global export volumes and prices in negative territory.

In this sense, globalization has started to reverse course following the Global Financial Crisis (GFC), and in spite of massive global monetary stimulus. This weakness in global trade is posing a threat to economies that have become increasingly reliant upon exports to prop up economic growth. It also presents new challenges for policy makers as sources of growth become scarcer in this era of falling trend growth that we first identified way back in 2008.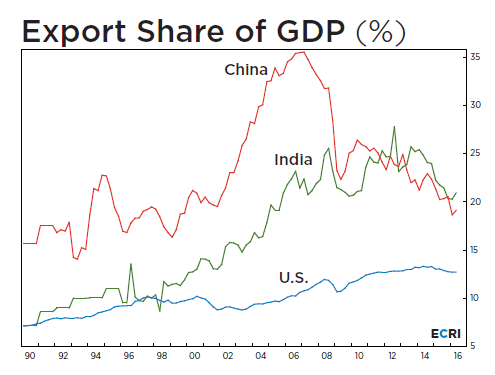 This shift away from exports is already evident in declining export shares as a percentage of GDP in both major developed and developing countries. For the U.S. (blue line), the export share of GDP topped out in 2014 and has been trending down ever since. In China (red line), the export share has declined sharply from its early 2007 high, falling by more than 16 percentage points. Of course, some of this drop was desirable in regards to China's longer-term rebalancing efforts. Yet, even India (green line), which presumably still has many years of strong growth ahead, saw its export share slide from its 2013 high.

As we have pointed out before, for those countries that have become dependent on exports to drive economic growth, this decline in the share of exports is a very troubling sign. In order to protect their share of the shrinking global trade pie, these economies are resorting to competitive devaluation. However, such devaluation is of no avail from this global perspective, since currency depreciation for one set of economies automatically results in currency appreciation for the others.