Global Slowdown Jeopardizes Brazil's Export Prospects
The Brazilian economy has been mired in a crippling recession akin to a depression, as we explained in January. At the time, partly helped by the weakening real against a basket of currencies, increasingly positive export growth was one of the few bright spots in South America's largest economy.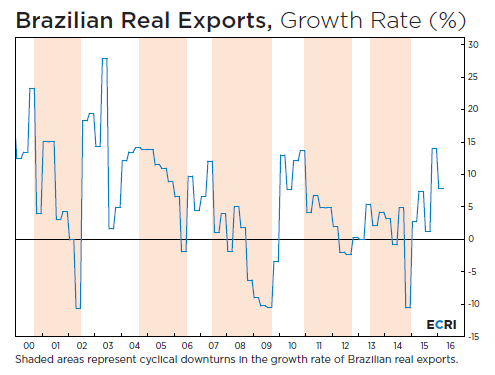 Indeed, year-over-year growth in Brazilian real exports (Chart) turned up in Q4 2014 and climbed to an 11-year high in Q4 2015. Since then, however, the real has strengthened and global growth has slowed, causing concern that the latest downtick in Brazilian real export growth may be more than a temporary slip.

Exports have grown to account for over 14% of GDP, making the export outlook increasingly significant to the overall economy. Thus, the latest update to the Brazilian Leading Exports Index, specifically designed to anticipate cyclical turning points in Brazilian exports, offers essential insight into whether Brazilian export growth will recover or continue to decline, playing an important role in the prospects of broader economic growth.
Full Report: August 3, 2016: U.S. Focus