Global Growth Outlook
Following on the global industrial growth upturn we flagged last summer, the growth outlook for the overall global economy has shown some signs of revival. Specifically, ECRI's 20-Country Coincident Index Growth Diffusion Index (20CIGDI) has risen above its recent multiyear lows, having picked up since July (chart).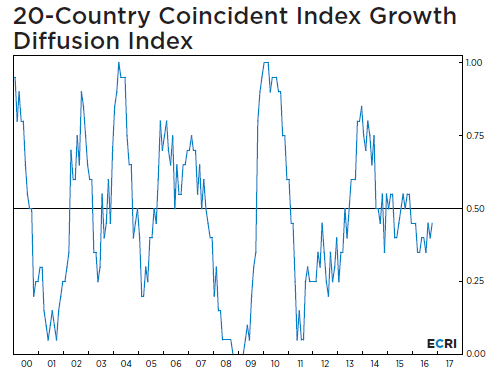 This index and the corresponding 20-Country Long Leading Index Growth Diffusion Index (20LLIGDI) measure the proportions of the 20 economies regularly monitored by ECRI whose long leading index and coincident index growth rates, respectively, have improved over a 12-month span. In the past, these indexes have proven quite prescient.

Please recall that, in the summer of 2014, in the face of an increasingly upbeat consensus, ECRI predicted a global slowdown on the basis of these indexes, noting that, with the 20CIGDI "having rolled over" and the 20LLIGDI also "in a cyclical downturn, reports of easing growth are likely to become more widespread internationally." That global slowdown became evident to the consensus a few months later as the prices of industrial commodities, including crude oil, began to plunge.

Today, there is potential for the opposite cyclical situation. Although growth continues to slow in the majority of the 20 economies we monitor, the share of countries with slowing growth has declined. An examination of the 20LLIGDI clarifies whether or not the 20CIGDI is truly in a nascent upswing that would herald a global growth upturn.