For the Bank of England, Timing is Everything
With the Fed widely expected to raise rates this month – kicking off its collision course with the economic cycle – a key question is when the Bank of England (BoE) will follow suit. Indeed, both the U.S. and the U.K. economies are approaching what their respective central banks deem to be "full employment." Moreover, both central banks consider weak inflation to be only transitory, with the base effect from last year's drop in energy prices gradually fading.

Specifically, the U.S. unemployment rate (lower panel, light blue line) sits just 0.1 percentage points above the Fed's latest median estimate of 4.9% for the non-accelerating inflation rate of unemployment (NAIRU) — its estimate of "full employment." For the U.K., the unemployment rate (lower panel, dark blue line) is similarly close, at just 0.3 percentage points above the BoE's latest NAIRU estimate of 5.0%. Meanwhile, inflation is clearly well below target in both economies. In the U.S., year-over-year (yoy) personal consumption expenditures deflator growth (upper panel, gray line) has remained below the Fed's 2% target since the spring of 2012, while in the U.K., yoy CPI growth (upper panel, black line) has stayed below the BoE's 2% target since January 2014.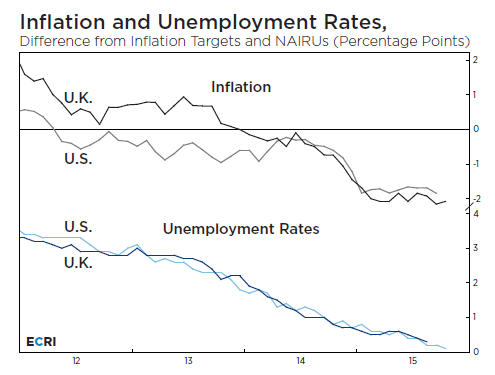 However, the BoE may be in more of a bind than is generally recognized — hamstrung by the same issues as in the U.S.: the long-term decline in trend growth and an ongoing growth slowdown — making a full-blown rate hike cycle questionable. With the BoE expected to raise interest rates later in 2016, ECRI's latest research delves into the cyclical prospects for the U.K. economy, providing insights into the shifting crosscurrents that could influence the timing of the BoE's first rate hike since 2007.