Food Price Deflation to Let Up
Following the spring 2015 upturn in the U.S. Future Inflation Gauge (USFIG), year-over-year (yoy) headline Consumer Price Index (CPI) growth has picked up noticeably, despite hovering around 1% for the past few months. Meanwhile, yoy core CPI growth, which excludes food and energy, has topped 2% for the past nine months. A key reason for the gap between headline and core CPI inflation is that yoy CPI growth for food at home has been increasingly deflationary since the late 2015.

To see where food-at-home CPI growth is headed, we examine the supply chain, through which price changes are transmitted from producers to consumers. The chart presents yoy growth in the Producer Price Index (PPI) for processed food and feed (top line) and the CPI for food at home (bottom line) – a proxy for grocery-price inflation. Food PPI growth peaked in the summer of 2014 and remained in a downturn until December 2015, anticipating the end-2014 downswing in food CPI growth. While food CPI growth is still in a downturn, food PPI growth has entered a clear cyclical upswing and remains near April's 13-month high.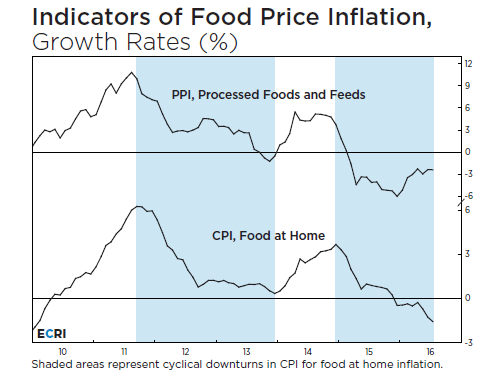 This upturn in yoy food PPI growth follows the spring 2015 cyclical upturn in the forward-looking USFIG, whose cyclical turns tend to lead those in food PPI growth. With the USFIG rising to its highest point in over eight years, food PPI growth and, in turn, food CPI growth will likely pick up, placing upward pressure on headline CPI inflation.