Exports Key to Canadian Economy in 2017
The Bank of Canada (BoC) hopes that exports, along with manufacturing, can drive growth in 2017, as the housing market shows signs of cooling after surging last year. However, there are concerns about export prospects, given that export growth was quite weak for much of 2016, despite a spike in November. Furthermore, with the U.S. being the top destination for Canadian exports, there are fears that the Trump presidency will increase U.S. protectionism.

While those concerns may have some merit, near-term export growth prospects are dependent upon cyclical factors, which will largely remain the case even if U.S. trade policy changes. Here, growth in ECRI's Canadian Leading Exports Index (CALExI) clarifies the near-term outlook as it consistently anticipates cyclical turns in Canadian real export growth (chart).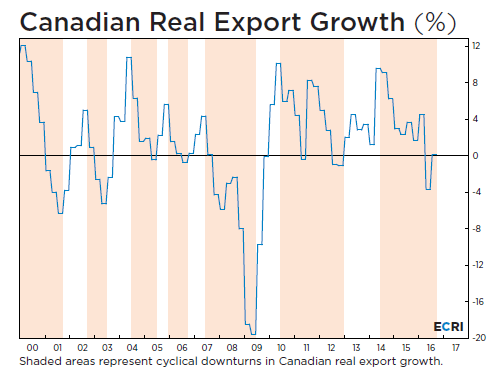 Indeed, CALExI growth turned down in April 2014, anticipating the mid-2014 downswing in Canadian real export growth. While Canadian real export growth ticked up in Q3, and reentered positive territory, it remains extremely weak. In order to support Canadian economic growth this year, export growth will need to revive further. The latest update to our CALExI clarifies whether the Q3 uptick in export growth is likely the start of an upswing, or a head fake that will disappoint the BoC.