Eurozone Export Outlook Critical as Global Trade Concerns Mount
While the consensus was relieved by the weak but positive growth in the Eurozone in the months following the Brexit vote, as Q3 2016 GDP growth held steady at 0.3%, clouds remain on the horizon with concerns about trade. The U.K. and the U.S. are the Eurozone's main trading partners and uncertainties abound regarding Brexit talks and U.S. trade prospects following the surprise U.S. election of Donald Trump.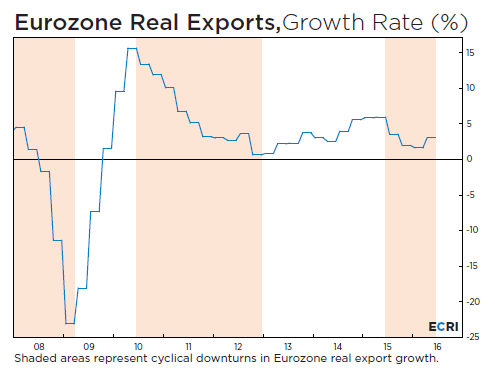 In this context, we examine Eurozone real export growth (Chart), which has been declining since mid-2015, and eased to a three-year low in Q1 2016 before inching up in Q2. Growth in ECRI's Eurozone Leading Exports Index (EZLExI, not shown), specifically designed to anticipate cyclical turns in Eurozone real exports, correctly anticipated this downturn.

With weak Eurozone economic growth, improving export growth could provide a boost. Our latest update to the EZLExI provides critical information as to whether export growth will weaken again in the months ahead, or continue to increase.