Defying Fed, Business Investment Growth Slows
The consensus has only recently become aware of the slowdown in U.S. economic growth that we predicted at the beginning of the year. Yet the related decline in profit margin growth already has some worried because similar declines have been associated with past recessions.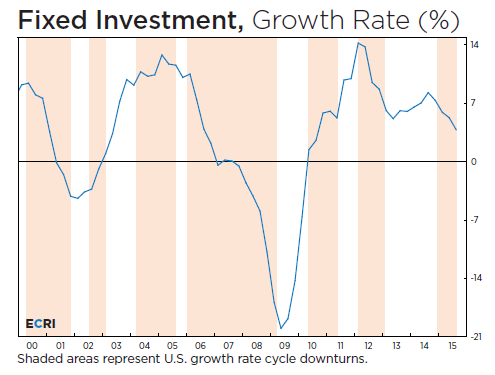 Still, others have downplayed the current profit growth decline, pointing to the recent plunge in energy sector profits as the main culprit, and likening the situation to the narrow oil-price-driven profit margin downturn in the mid-1980s, which was not recessionary. In their view, there is no cause for concern at the moment.
While a recession is not yet at hand, the squeeze in profit margins has weighed on investment, as year-over-year fixed investment growth slowed to a five-year low in Q3. This came on the heels of the latest Fed statement that fixed investment had supposedly been "increasing at solid rates in recent months…" If the Fed is counting on investment growth holding up, it may well be disappointed, making their plans for a rate hike cycle look increasingly ambitious.