Cyclical Prospects for Mexican Trade
Amid the U.S. presidential campaign, there has been added attention to the trading relationship between the U.S. and Mexico. While some claim that it favors the Mexican economy at the expense of the U.S. economy, the evidence shows that Mexico has been getting hurt on the trade front for some time now.

Oil, of course, is part of the dynamic, but weakness in trade goes beyond the plunge in petroleum exports. Mexican nominal export growth (Chart) for both petroleum (darker blue line) and non-petroleum (lighter blue line) exports has been contracting for a while. Real export growth has also been in a cyclical downswing, as anticipated by the earlier downturn in the growth rate of our Mexican Leading Exports Index (MXLExI).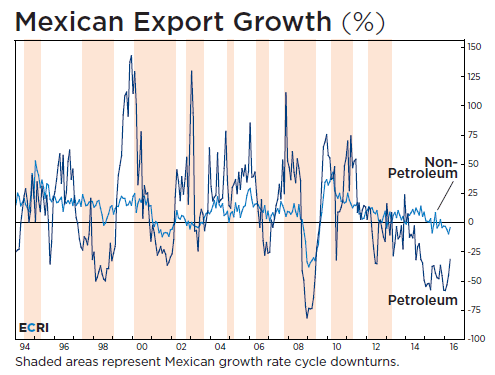 As Mexican exports have increased in importance – from about 15% of GDP pre-NAFTA to over 35% today – the economy has become much more exposed to fluctuations in the global economy. Thus, the ongoing manufacturing downturn in the U.S. – the destination for approximately 80% of Mexico's exports – has hit export growth particularly hard. This is occurring at a time when export volume growth is decreasing in both advanced and emerging economies, despite the ongoing steep decline in export price. This is also evident in Mexico's case where, even with the very weak peso, export growth has not been able to revive.

Our latest report features our MXLExI, clarifying the outlook for export growth, while also taking an in-depth look into the cyclical prospects for the domestic Mexican economy, determining potential sources of both weakness and strength in the months and years ahead.