Cyclical Prospects for Japanese Manufacturing
After Prime Minister Shinzo Abe's landslide victory in parliamentary elections, people are becoming more optimistic about Japan's economy. However, recent data for the manufacturing sector raises concerns. Under the circumstances, we closely monitor the Japanese Leading Manufacturing and Leading Exports Indexes, designed to anticipate cyclical turning points in manufacturing activity and exports, respectively. Of course, beyond the cyclical outlook, simple math shows that longer-term trend growth is approaching zero.

Regarding the cyclical outlook, year-over-year (yoy) growth in sales dropped to a six-and-a-half-year low, leaving aside the March 2015 plunge related to the sales tax hike, while GDP hardly grew in the second quarter. In the meantime, with the level of exports plummeting — contracting almost 20% from its January 2015 high to July 2016 — it is no surprise that yoy industrial production growth has stayed in negative territory almost continuously since the second half of 2014 (chart).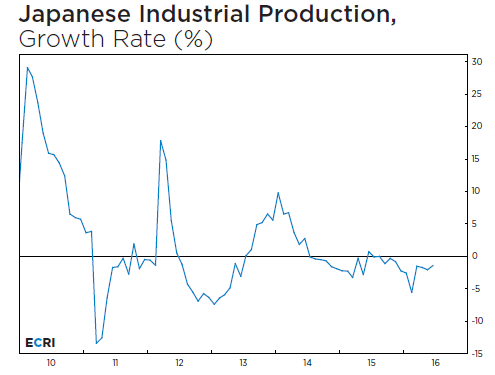 This is happening to Japan amid an ongoing global industrial growth downturn that we warned about early this year (ICO Essentials, February 2016). The latest updates to ECRI's Japanese leading indexes provide critical information for the future cyclical direction of industrial growth.
Full Report: August 10, 2016: International Focus