Cyclical Prospects for French Manufacturing
Catching the consensus off guard, Eurozone industrial production (IP) growth surged in November – helped by the stronger-than-expected French IP growth reading (not shown). To know if the improvement in French IP growth is merely a spike or the start of a true cyclical upturn, we look to ECRI's French Leading Manufacturing Index (FRLMI), which consistently anticipates cyclical turns in French IP growth.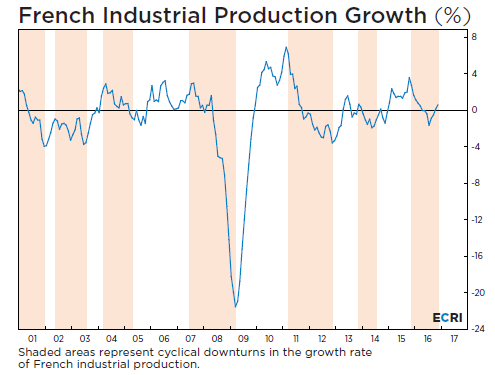 Indeed, following the last downturn in FRLMI growth (not shown), the three-month trailing average of French IP growth (chart), used to smooth movements, turned down in October 2015 and declined to a 25-month low by last July.

Against the backdrop of the ongoing cyclical upturn in global industrial growth, which we flagged last summer, the French manufacturing sector could well be poised for a revival. With the sector accounting for approximately 11% of overall French GDP and about 15% of jobs, robust industrial growth would provide some support to the broader economy. Thus, our latest update to the FRLMI provides clarity on whether IP growth will continue to improve in the months ahead, or weaken again.