Commodity Exports Weigh on Australia
Thanks in large part to China's rapid growth, commodity exports had been one of Australia's main drivers of economic growth. However, commodity exports have been shrinking since 2014, with its growth rate staying deep in negative territory.

ECRI's Global Leading Manufacturing Index (GLMI) is designed to anticipate turning points in global industrial production, and includes China. Because demand for commodities depends largely on the global industrial cycle, we see that cyclical turns in GLMI growth have also consistently anticipated those in Australian commodity export growth.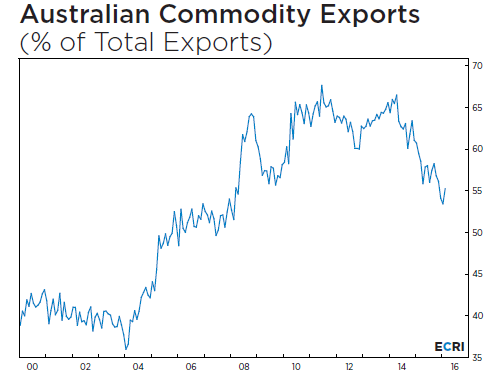 The International Monetary Fund now expects the Australian economy to grow by less than 2½% in 2016, even below the global growth forecast of 3.2%. Under the circumstances, the latest update to the GLMI provides critical information as to whether Australian commodity exports will recover, or continue to be a drag on overall economic growth.