Chinese Cyclical Growth Prospects
The reputation of China's leadership has been tarnished as a result of the recent mishaps in the stock market and transition of the yuan towards a market-based currency. Consequently, there have been ever-louder proclamations of the economy's impending doom. Though many of the fears may be inflated, from a cyclical perspective, for about a year there have been signs that the cyclical drivers of the economy have been easing.

Of course, too close a focus on financial markets – which are not representative of the overall economy – can make it is easy to miss the reality of China's ongoing transition from an industry-led economy to a services-driven one. Indeed, a comparison of the less volatile quarterly growth rates of Chinese industrial production (Chart, dark blue line) and retail sales of consumer goods (light blue line) reveals the two moving relatively close together until 2014, but diverging sharply thereafter. While quarterly retail sales growth is now at a multiyear high, industrial growth is just above a multiyear low. Moreover, retail sales growth across China's provinces has been relatively strong across the board, indicating that overall service sector growth has been increasing at a reasonable pace. The key question now, is whether this can continue.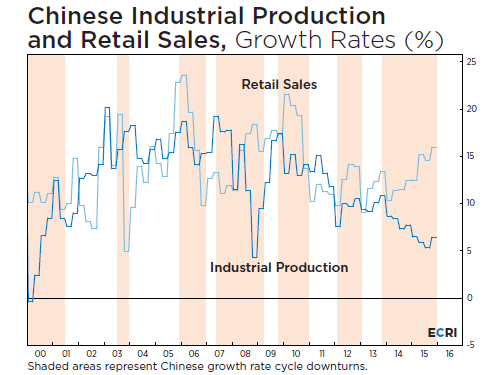 Under the circumstances, China's leaders are facing more scrutiny than ever. With a changing economic landscape, the strategies that had worked for them previously no longer function for an increasingly service-oriented economy. In this context, ECRI's latest report provides an in-depth analysis of the current situation and more importantly, examines the cyclical outlook using our wide array of Chinese-specific leading indexes.