Canadian Job Market Still Healing as Part-Time Jobs Dominate
Canada's labor market remains a concern, since the vast majority of jobs added in January – and in 2016 – were for part-time positions. The Canadian job market has been slowly recovering from the 2014 oil shock, which Bank of Canada Governor Stephen Poloz recently characterized as setting the economy "back for two, three years."

In this context, ECRI's Canadian Coincident Employment Index (CACEI) is instructive, since it is a much broader measure of the labor market than simply the number of jobs added or the unemployment rate. Cyclical movements in the CACEI are typically anticipated by our Canadian Leading Employment Index (CALEI).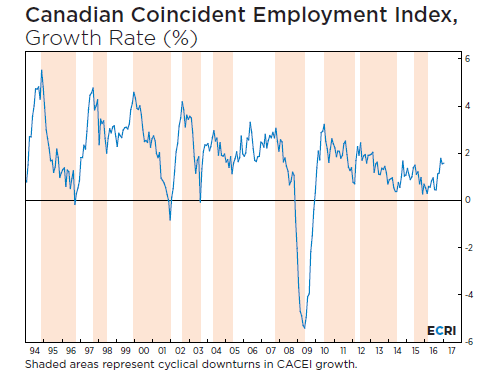 Consistent with the 2014 oil shock, CACEI growth faltered in the fall of 2014 (chart) – before slipping into another full-fledged cyclical downturn in 2015-16. Since exiting that cyclical downturn in early 2016, CACEI growth has increased in fits and starts, rising more steadily since August and touching a 45-month high in November, despite slipping slightly since then.

Our latest update to the CALEI clarifies whether the Canadian labor market will continue to strengthen, or if the recent downtick in CACEI growth is the start of a cyclical downturn. Notably, as we showed last month, Canadian export growth has been quite weak of late, indicating that that key sector is not yet supportive of a labor market revival.