Canadian Exports Face U.S. Headwinds
Only a few weeks before the fire in Alberta, the Bank of Canada (BoC) had forecast a pick-up in export growth this year. The wildfire cut oil production — Canada's top export — by one million barrels per day for the week it raged, a transitory shock, with oil production likely to recover before June.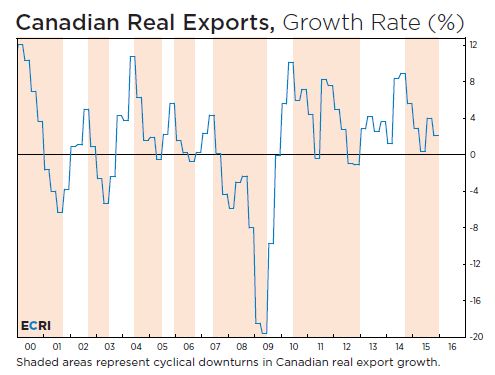 In this context, we examine Canadian real export growth (Chart), which has been in a cyclical downturn since Q3 2014, despite moving modestly above its mid-2015 low. In fact, export growth need improve only marginally from its weak 2015 readings for the BoC forecast to prove right.

While the wildfire caused a temporary supply disruption for a key export, export demand faces a serious headwind: the economic slowdown in the U.S. — the destination for the overwhelming majority of Canadian exports — is set to continue. ECRI's Canadian Leading Exports Index clarifies whether Canadian exports can manage the modest improvement the BoC expects this year.